DietMP3 - Compress MP3 files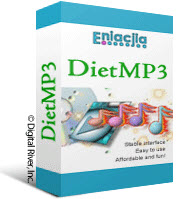 Compress MP3, grab music CD, save your hard disk space and let your MP3 Player can hold more songs...
With DietMP3 you can compress MP3 files by 30% to 70%, which will save you valuable space on your MP3 player and computer hard drive!

Crunch the size of your MP3 files! DietMP3 can significantly reduce or 'diet' (30% - 70%) the size of an original MP3 file with very minor loss in sound quality. This allows you to put more songs onto a CD-R or CD-RW when burning your own discs or portable MP3 players such as classical MP3 players, Palm , Pocket PC and even digital cameras without an expensive flash memory upgrade.

Order Now $14.95 USD
Software Information
System Requirements
Version:
4.03

Windows 8/7/Vista/XP/2000;
512 MB RAM
10M HD

License:
Free to try, $14.95 to buy
Screenshot:
View Screenshot
Rating :
Key Features of DietMP3 :
Diet (compress) MP3 files and Audio CDs.
Reduce 30% to 70% MP3 file size and keep most of the music quality.
Extract CD Audio tracks to MP3 format in the quality you want.
Let your portable MP3 players, MP3 mobile phone and MP3 Palm can hold more songs without purchasing & install additional flash memory card.
Auto New Version Check Function, you will never miss any new version.
Fast and stable, the best one in the internet.
What is DietMP3? It works as its name and offer more...
Ask them - the millions of people who love music and use DietMP3 - why DietMP3 is become such an integral part of their lives, and most will tell you that it's because it just works. Letting them enjoy rhythm everywhere, never get bored by repeating same songs again and again on the road. And there's good reason. Only with DietMP3 do you find absolutely endless music experience. Only with DietMP3 do you get totally different cool feeling by the same potable players.

Download Diet MP3. Run it. And you're ready for cool! That's because with DietMP3's magic, you'll find all your digital music giants become manikins but not lose their beauty at all. Your pockets have never been able to hold so much music. You will never regret joining DietMP3 user family.
Why DietMP3? Top 5 reasons to use it and have fun...
1. Music is always not enough, DietMP3 give you more. Have you ever felt bored by repeating the same songs again and again in a long trip just because your MP3 player can only hold 5 songs for its limited flash memory? If your answer is yep, YES, you should use DietMP3 because it can reduce the file-size of your digital music and hold more songs in the same potable MP3 players or MP3 CDs

2. DietMP3 is developed by and for music fans. "I know how you love the song because I mad for it too." Get the sense? Our developers are music fans too, so they know what they need and, the most important part, they know how to turn their ideas to perfect software. So that's it - DietMP3

3. Save money, save time. Needn't to buy another memory card, money saved, one CDR can hold more songs now, money saved. File size of digital music is reduced, less time needed to download them to potable player, valuable time saved. It's how the life can be better.

4. All loaded and cool, your another SUV. All you want are included in DietMP3 now - MP3, Audio CD and more formats are supported, with excellent performance and cool appearance. So, start the engine, accelerating and speeding now.

5. Simple and Stable as your Swiss watch. No fancy but nonsense functions, runs well with Windows 9X/Me/NT/2000/XP, the robust DietMP3 is your Music-Basic, so take it now.