Badminton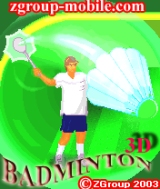 Badminton is a sport requiring stamina, fitness and desire. It is a fast, dynamic, challenging sport. It is a sport that can be played at your own pace for your exercise and enjoyment. It's a sport enjoyed by both males and females. Now you can take all that onto your mobile screen!
At the start you might want to try the Training section where you can train yourself on the game. You can select your gender and then you can select your opponent. Opponents have different skills and each has his strong point and his weak points! Try to beat first the weakest one then proceed to stronger opponents.
After preparing yourself well, you can try to compete for world's cup. There are 16 competitors who will be organized in 8 groups. The losing player will get out. If you win the four consecutive matches then you win the cup!
Controls of the game are very easy. You can get accustomed to it within ten minutes.
The game is available for the following mobile phones: All Nokias, and SonyEricsson T610/T616/T630. There's also a 100% MIDP compatible version ready to be ported to other devices.


Buy Site: http://www.zgroup-mobile.com/reviews/Badminton/Badminton.html
---
Key Features:
The user can save a game while he is playing it. Then the user can resume it as if no interruption has happened. This is important for long levels and addictive players!
Eight different opponents with different skills.
Accurate shuttlecock physics simulation.
Tournament mode: Where you can play against opponents for the world's cup!
Training Mode You can start practicing to prepare yourself for the world's cup!
Two genders as it's a game for two different genders
Three different playfields to choose from!
Sound & Vibrator effects make the game more enjoyable.
Controls:
'4' or 'LEFT': Move the player left.
'6' or 'RIGHT': Move the player right.
'5' or FIRE: hit the shuttlecock and aim it directly.
'8' or DOWN: Move background.
'7': Move the player to the left and down.
'9': Move the player to the right and down.
'1': hit the shuttlecock and aim it to the left.
'2': Move forward.
'3': hit the shuttlecock and aim it to the right.
'0': Pause/Resume game.
Screenshots!