Atlantis Advisor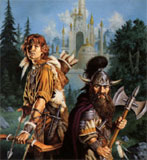 What is Atlantis?
It is PBEM, Play By E-Mail game. Imagine Might and Magic or other turn-based strategy (i.e. Master of Orion). Now imagine that after each turn program creates a text file with current game position, and sends it to player. And player replies with his orders in other text file. And now imagine some dozens of players of this kind, playing same game. This will be about PBEM.
Atlantis looks much like mentioned Heroes of Might and Magic, there is a leaders, squads and hexagonal map too. And, it is fantasy. That means that people there cutting dragons and each other with swords and sorcery, and you can see earry elves and hammerly gnomes all around.

What is Advisor?
As we know, PBEM reports is nothing more than large sheets of texts. There is sometimes boring to read them through. So, some smart people writes programs to read reports and show them in tables, maps and images. That programs commonly known as clients. And, whoops, Advisor is a client for Atlantis!
Advisor can draw a cool cute map with many options, load as much as you want turn reports and issue some common orders. It uses "unit know what it can do" concept. That means, you cannot order to produce axes, if unit isn't skilled as weaponsmith or has no ron.




Software Information
System Requirements
Genre:
Strategy

Windows 95/98/2000/ME/XP
Pentium II
64 MB RAM
10 MB disk space

File Size:
1.0 MB
License:
Free to try, $10.00 to buy
Rating :
Some most significant features:
Order Script allows you to write your own behaviors for units and avoid mundane repeating actions.
Battle Viewer / Simulator shows battles in graphical Might & Magic style. Result of a battle can be predicted.
Various statistics shows different types of info; for exemple, you will know if someone working / entertaining / taxing in some regions, even if there is no visible units.
Armies. Units grouped into armies will move together.
Needs. Declare amount of silver needed for studying unit once - and then forget about it. Unit will automatically get needed items from other units.
More Screenshots - Click each image to enlarge!