AM Lightning Messenger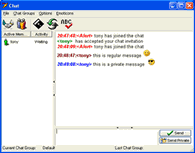 AM Lightning Messenger provides real time messaging and presence for the Internet and NT Domains. When used on a NT/Active Directory network users are automaticly grouped by domain and primary group. Save time AM Lightning Messenger shows who is online and their status in real time. The user status includes Away From Desk or Do Not Disturb. See the Icon Legend for more







Software Information
System Requirements
Version:
1.3.4 build 46

Server: Windows NT/2000/XP/Linux
Client: Windows 95/98/Me/NT/2000/XP
Pentium or similar processor
64MB RAM

License:
Free to try, $199.99 to buy
Screenshot:
View Screenshot
Rating:
AM Lightning Messenger Benefits:
Save time
AM Lightning Messenger shows who is online and their status in real time. The user status includes Away From Desk or Do Not Disturb. If a user is online, you can send Lightning popup messages with attachments and rich text with clickable hyperlinks.
Save money
Our product is considerably less expensive than other commercial products with similar features.
Great for Help Desks
The AM Lightning Messenger client has the ability to control VNC (Virtual Network Computing) from the User Directory. Help desk technicians can take control of the user's PC and help them without leaving their desks. System information can also be retrieved from a user's PC to help diagnose problems.
Relay Chat
Users can initiate a chat session with anyone in the directory who does not have "Do not disturb enabled". The chat sessions support clickable hyperlinks in the text. The chat interface also provides feedback so you know when the other person is typing or when they are waiting for a message.
Positive User Feedback
All operations have some form of user feedback to let the user know what is going on at the other users PC. When a user replies to one of your Lightning popup messages, feedback is provided in the status bar and in a small notification window that appears over the system tray.
Integration with your NT/Active Directory Domain
The User Directory is automaticly grouped by the Primary Group that is assigned to each user in the "User Manager for Domains"