Alien Stars Game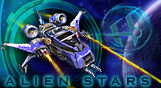 And here we go again! Millions of shining stars on a deep dark sky and a space ship flying so fast! Welcome to the fantastic world of Alien Stars - a fantastic Vertical Scrolling Space Shooter game! The game of our future. Leave your fears far behind. Set your mind free. Believe in the endless universe and it will blast in front of your eyes with millions of alien galaxies.

Alien Stars belongs to the games of a new generation. It combines all the best features of simple arcade and space shooter. The screenshots, which you see on this page, shows you the birth of the new world and it's up to you to decide whether you want to be just a passive observer or a man, whose passion is Alien Stars!

"...Year 2741. Transgalaxy Department of Defense, being a representative of the law in all the populated sectors of the Galaxy, lost its control and was unable to function in unity any more. The Peace Treaty, which had been enforced for the last 500 years was infringed. Hordes of Biodos subdued the constellations of Chrono and Recart. The colonies of Earth were next to become conquered and enslaved. The most destructive war of the third millennium turned out to be inevitable..."

In our game you will find lots of different enemies, destroying armor and as much action as you can only imagine! When running your fantastic space ship you'll have a chance to enjoy beautiful space landscape and listen to the original soundtracks. Alien Stars can absolutely be called a blistering game with a blistering gameplay!




Software Information
System Requirements
Version:
New Version

Windows 8/7/XP/Vista
Pentium II 500 or better
Direct3D compatable video card
512 MB RAM or better
DirectX 8.1 or higher

Genre:
Action
File Size:
15.1 MB
License:
Free to try, $9.99 to buy
Rating :
Alien Stars Game Features:
Tons of enemies, weapons and bonuses.
An ability to post your results to WorldWide Hall Of Fame.
11 large missions with a huge Boss at the end of each.
Unique and truly addictive gameplay.
More Alien Stars Screenshots - Click each image to enlarge!