AL Pictures Slideshow Studio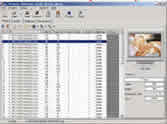 This program enables you to quickly create slideshows incorporating both picture and audio files. The slideshow can be created as an executable (.exe) file, or as a screensaver (.scr) file.
The program includes 182 transitional effects. No other programs are required to view your personally created slideshow. You can send slideshows to friends, family or other interested parties via e-mail, websites, CD, DVD etc. With this program you can create a professional slide show within minutes. Besides creating exceptional photo albums, this program can also be used to make business presentations, educational tutorials, product or service endorsements, anything you can imagine. If you have a digital camera, astonish your friends by making a slideshow within in minutes of taking the pictures, sending it to them and then exporting the individual photos they like the most as a JPEG or BMP file.
Any picture in JPEG, JPG, TGA, BMP, RLE, DIB, TIF, TIFF, VSD, ICB, VDA, WIN, PCX, PCC, BW, RGB, RGBA, SGI, PSD, PDD and PNG formats can be utilized during the creation of the show. For the audio you can use MP3, WAV or MIDI formats. To decrease output file size, all pictures will be compressed into JPEG files.
All projects can be saved as a work in progress, allowing you to return and create a more professional program. Separate parameters (such as background colors, audio files, comments, etc.) can be set for all pictures, groups of pictures or individual pictures.
You can make your presentation very quickly, or you can test all the different features in order to make a higher quality professional program. You can then choose what kind of executable file you wish to save it as: "MySlideshow.exe" or "MyScreensaver.scr".



Download Trial 2.15 MB
Software Information
System Requirements
Version:
2.91

Windows 98/ME/NT/2000/XP
Pentium II CPU
64 MB RAM

File Size:
2.15 MB
License:
Free to try, $24.95 to buy
Screenshot:
View Screenshot
Rating :
Key Features of AL Pictures Slideshow Studio :
Create presentations combining photos and audio into a single executable file or screensaver (EXE or SCR). No additional programs are required to playback the slideshow.
Choose from 182 transitional effects (fade, slide, wipe, etc.) for each individual slide.
Showing fade out one slide with fade in the next one.
Showing fade out one slide then fade in the next one.
Supported graphic formats include JPEG, JPG, TGA, BMP, RLE, DIB, TIF, TIFF, VSD, ICB, VDA, WIN, PCX, PCC, BW, RGB, RGBA, SGI, PSD, PDD and PNG files.
Supported audio formats include MP3, WAV, MID, and MIDI files.
Uses 182 transition effects (fade in, fade out)
Tuning "frames per slide" to effectively using your 3D accelerator. For slowly video-cards (like nVidia TNT, TNT2 ...) value 20-50 is recommended. For faster video-cards (GeForce2..4, Radeon, ATI, Voodoo 3 ...) you can set it greater than 50.
Set background pictures for each slide.
Set background colors for each slide.
Set duration times for each picture.
Stretch pictures to fit into each slide.
Simultaneously (fade in and fade out) for each slide.
Set alignments for each slide.
Each slide can have up to two notes.
You can define theirs location on the screen, font, size, color of font itself and background as well.
Current date and time (each slide). You can define theirs location on the screen, font, size, color of font itself and background as well.
Preview individual slides and their effects.
Preview the slideshow(screensaver) in its entirety.
Create separate messages for the slideshow's beginning and end.
Have program create slideshow with random transitions.
No extra library needed for audio files.
Create slideshows in the following modes:
1. Maximized window without frame (recommended)
2. Maximized window with frame
3. Window 320 x 240
4. Window 640 x 480
5. Window 800 x 600
6. Window 1024 x 768
7. Window 1152 x 864
8. Window 1280 x 1024
9. Full screen mode (default size) - current desktop settings are used
10. Full screen mode 640 x 480
11. Full screen mode 800 x 600
12. Full screen mode 1024 x 768
13. Full screen mode 1152 x 864
14. Full screen mode 1280 x 1024
Multilingual interface (Arabic, Belarussian, Croatian, Czech, Danish, Dutch, English, French, German, Hungarian, Italian, Portuguese, Polish, Russian, Spanish, Swedish, Slovenian, Slovak, Turkish) see more
Save projects to work with again in the future.
Compatible with Windows 95, Windows 98, Windows Me,
Windows NT4, Windows 2000, Windows XP
Require DirectX 6.0 or later (testing with DirectX 7.0, 8.0, 8.1, 9.0)
Uses hardware 3D accelerator (if any). This allows to improve performance and output quality.