Advertising Cleaner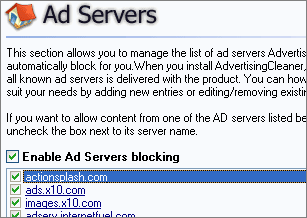 Did you know that almost half of the bandwidth used while you're browsing the Internet is eaten by downloading advertisments?Did you know that spyware applications running on your computer may be secretly sending your private data over the Internet right now? Fortunately, now you can defend yourself - AdvertisingCleaner blocks pop up windows before they open, removes advertisments from web pages and can detect and stop hundreds of spyware programs.
The Advertising Cleaner's interface is easy to use. The application sits in your tray bar, and monitors the system's activity. By clicking the Advertising Cleaner's tray icon, you can access the preferences' window and also the statistics' window, so you can easily customize the behavior of this program so that it can meet your needs. By default AdvertisingCleaner shows you a roll window each time it blocks any adware application, pop-up or it cleans any webpage by advertising content.
Software Information
System Requirements
Version:
2.0

Windows 8/7/XP/Vista
Pentium or AMD processor
512 MB RAM

File Size:
1.01 MB
License:
Free to try, $24.95 to buy
Screenshot:
View Screenshot
Rating:
Advertising Cleaner's Main Features:
Save your computer's resources - Reduce the number of malicious script-based pop-ups that clutter your screen and force unwanted advertising to you.
Block cookies - Block the cookies (web bugs) typically attached to banner ads and which are used to monitor and track your travels around the Internet.
Block spyware, adware applications - Protect yourself against auto-installing spyware or adware from spyware pushers (e.g., BonziBuddy, Gator, Lop.com, Comet Cursor, etc) that can invade your system, monitor your computer and Internet use, and trash your PC.
Server Name Pop-up's Filter and Blocking - Advertising Cleaner includes a large database containing hundreds of servers whose web pages usually contain advertising.
URL Patterns' Blocking - Advertising Cleaner uses a heuristic approach to detect advertising based on its location. Common, tested patterns are provided with the application, but you can customize this list as you want, to improve its efficiency.
Window Title's Blocking - Advertising Cleaner can watch out for common text patterns used in the titles of pop-up windows and close them automatically based on this criteria.
Clear pages of advertisment and banners - Advertising Cleaner successfully removes banners or other types of advertising from web pages you visit. The content is not even downloaded anymore, in this way you'll save your time and make your internet browsing more enjoyable.
Spyware Killer - Advertising Cleaner can detect and stop hundreds of spyware programs that run in the background and that can harm your computer or send private data about you.
Block all new IE windows - If you browse a very aggressive website full of pop-ups that open no matter what solution you are using Adverstising Cleaner will be able to close all of them.
Fill web forms - Advertising Cleaner can automatically fill the web forms for you, so you'll save precious time when registering, purchasing or authorizing over the internet.
Benefits, use Advertising Cleaner:
It gives you everything you need, to quickly get started without spending countless hours trying to figure out menu after menu of controls.
Since Advertising Cleaner identifies unwanted content, you'll be able to browse the internet faster.
Reduce the number of malicious script-based pop-ups that clutter your screen.
Turn the internet browsing from an annoying into a fun task.
Advertising Cleaner can make the difference between pop-ups advertisment and useful new windows.
Get notified whenever any script, adware or spyware application tries to attack your computer.
It blocks the most common spyware applications that can run into your system.
There is a battle between creators of pop-up blocker systems and pop-up creators (web masters). Daily, everyone finds a trick to foul the others. Getting Advertising Cleaner, you'll get monthly updates for a year, so we can guarantee you'll use a cutting edge solution.
Advertising Cleaner can fill the web forms for you, using Auto-fill option.