AceReader Pro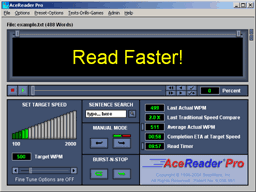 AceReader is a revolutionary Speed Reading, Assessment and Online Reader Software. AceReader Pro is 3 tools in one: (1) It is a training tool that will help you become a more proficient reader both online and offline. Learn to Speed Read. (2) It can be used to assess and track your reading level. (3) It can also be used as an online reading tool to help you read more efficiently while online. Utilizes Tachistoscope Technology to pace your reading. Designed for all ages. Assess and Improve your reading skills with Comprehension Tests, Drills, Games and Courses for grades 1-12 plus adults. Drills will automatically adjust training speed relative to personal reading ability. Test results are logged and graphed for accountability. With the Online Reader (Expert Mode) you can rapidly read and skim text from web pages and other sources in RSVP mode. In RSVP mode the words come to your eyes instead of your eyes going to the words..
It can be used to: assess your current reading level; improve your reading speed and comprehension, both online and offline; and help you read faster while on the computer, by utilizing special display modes.




Software Information
System Requirements
Version:
4.50

Windows 9x/Me/NT/2000/XP/2003/Vista
Pentium or similar processor
64 MB RAM

File Size:
4.31 MB
License:
Free to try, $49.95 to buy
Screenshot:
View Screenshot
Rating:
AceReader Pro can be used:
Diagnostic Reading Assessment Tool
In addition to improving your reading skills, use AceReader to help assess your current reading level (speed and comprehension).
Tachistoscope
Use AceReader as a pacing tool. Some teachers have noted that AceReader is a modern-day software version of the mechanical tachistoscope machines from years ago. Those machines, which would flash text onto a screen at configurable speeds, were used to help many students and teachers learn how to read better by pacing their eye movement. AceReader goes beyond their capabilities, though, by providing many additional options and features, and it includes the ability to track student progress.
Warm Up Tool
Use AceReader to warm up your reading skills. It's the same as picking up several bats and taking a few swings before stepping up to the plate. Then you can switch over to read online or offline, increasing your speed in the process.
Low Vision Aid
Read without eye movement. Change the text font and background color to meet your needs.
Memorization and Flash Card Tool
Use AceReader Pro's Flash Card Game to memorize learning material (i.e. state capitals, multiplication tables…). You can also use the Burst Forward and Burst Repeat features to rapidly read and re-read text for the purpose of memorizing it.
Self-Improvement Programmer
Step up the speed and rapidly display messages to yourself for the purpose of programming your subconscious with positive suggestions.
Foreign Languages Trainer
Use AceReader as a computerized flash card system to read and re-read text for the purpose of learning a foreign language. AceReader support s the international ASCII character set (i.e. English, Spanish, German, French, Italian, etc.).
ESL Trainer
Use AceReader to help learn English as a Second Language by improving your English reading skills.
Dyslexia Aid
Read by viewing one or a few words at a time. Easily adjust the speed to your fit your needs.
Eye Tracker
Train your eyes to move left-to-right and top-to-bottom by using the "Eye Trainer Mode". This mode forces proper eye movement for normal offline reading.
PhotoReading Aid
Use AceReader to flash whole pages of text at desired speeds to assist with online PhotoReading techniques.
Speed Reading Aid
Use AceReader to assist your eye tracking at configured speeds. This will help break common bad reading habits that slow you down (i.e. subvocalization and regression...).