A.A.L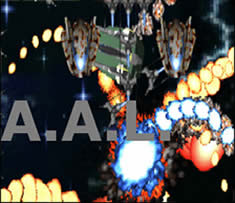 In AUC 3010 we made First Contact with what we now know as The Evil Magellian Empire. It is a part of the Mighty Alien Alliance (ltd). All 15 empires declared Total War to Extinction on us when our ambassador Illan Kor - unforgiveably - failed to spit on the Holy Carpet.

Collect powerups and unlock more than twenty well armed fighters. Find a way through asteroid fields, dodge bombs, and destroy alien shipyards.

Explore 15 empires and 135 planetary systems, encounter new alien races, adjust your strategy to dozens of attack formations, moving styles and weapon systems. Shoot kamikaze attackers before they destroy your ship, deal with self-healing bosses and move on to the next wave before enemy reinforcements arrive.




Software Information
System Requirements
Genre:
Action

Windows 98/ME/NT/2000/XP
Pentium500 or better
128MB of RAM
Directx 8.1 and up

File Size:
8.41 MB
License:
Free to try, $19.95 to buy
Rating :
Weapons
Hyperblaster
Pellet Gun
Zilch-o-Tron
Railgun
Double Blaster
Blue Plasma
Mercury Shotgun
Twin Laser
Anvil FX-4
Back-Blaster
Nuclear Missile
Quantum Torpedo
6-Pack Missiles
Fat Kitty
Cooling Missile
Equipment
Extra Armor
Cooling System
Auto-Repair
Shields
More Screenshots - Click each image to enlarge!