995 MAHJONG for Pocket PC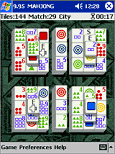 995 MAHJONG brings the excitement of solitaire Mahjong (also know as Mahjongg, Mah Jong, or Mah Jongg) to your Pocket PC handheld. For the first time you can enjoy a really playable Mahjong, specially designed for your PDA, and featuring 50 challenging layouts, gorgeous backgrounds, 3 stunning tile sets, unlimited undo/redo, high-score tracking, hint function, and much more. This tile matching game will keep you entertained for many hours - guaranteed!

Buy Now $9.95 USD
Software Information
System Requirements
Genre:
MahJong

Any Pocket PC handheld - this includes models from Dell, HP, Compaq, Toshiba
At least 700 KB of available memory

Rating :
Game Features of 995 MAHJONG for Pocket PC :
Choose between 50 challenging layouts going from 12 to 154 tiles.
Play layouts in random order, in sequence, or in any order you want.
Leverage real time statistics providing:
- the number of tiles left
- the number of available matches
- the time spent on the current layout
Improve your Mahjong skills and record your high-scores.
Beautiful layouts with shadows and isometric perspective.
3 gorgeous, easy-to-read tile sets optimized for handheld screens: - tradition (classic Chinese)
- simple (basic shapes)
- simplest (letters and numbers)
Colorful background images.
Animated tile special effects.
Use the "Hint" function to receive a suggestion for your next move.
Stuck? Do a "Shuffle" to rearrange the tiles.
Don't be afraid of making mistakes! Take-back as many moves as you want with the unlimited UNDO/REDO feature.
Resume the current game at any time with Automatic Saves.