995 CHESS for Pocket PC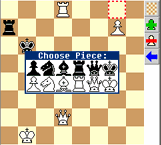 995 CHESS is the perfect Chess game whether you are a beginner or an expert! Very strong chess engine, clean, easy-to-use interface, packed with powerful options... Finally a very strong and affordable Chess program for your Pocket PC handheld!

Order Now $9.95 USD
Software Information
System Requirements
Genre:
Board

Any Pocket PC handheld - this includes models from Dell, HP, Compaq, Toshiba
At least 350 KB of available memory

Rating :
For beginners:
Clear and simple interface with informative help screens.
Play against the computer or a friend.
Choose between 10 levels of difficulty (presented as computer thinking time).

Use the "Hint" function to receive a suggestion for your next move.
Don't be afraid of making mistakes! Take-back as many moves as you want with the unlimited UNDO feature.
Learn by watching 995 CHESS play against itself.
Switch sides at any time and avoid losing face!
For experts:
995 CHESS uses the excellent and proven GNU Chess engine.
Switch to edit mode and set up any position on the game board.
Decide how much thinking time to give the computer.
Control the computer personality by adding a randomness element or modifying its aggressiveness.
Includes an opening book with over 6,500 chess moves.
Access most frequently used functions with just one tap.
Other features:
Resume the current game at any time with automatic saves.
Optionally play a sound after each move.
Works on all Pocket PC devices.